HIGHLIGHTS
Equities are flat as strength in industrial's offset weakness in tech.
VIX hits all-time low.
Q2 GDP up 2.60%.
Fed to begin to unwind its balance sheet sometime soon.
Inflation under the surface?
Dysfunction in Washington.
PERFORMANCE
US equities were roughly flat on the week which was quite a feat since market leaders Amazon and Google fell after they released earnings. Amazon dropped 0.6% and Google 3.6%. The market was helped by some old-time blue chips like Caterpillar (+7.04%), and Boeing (+13.7%). Caterpillar, which is a good gauge of global growth, raised its outlook for the year.
The VIX, a measure of volatility that is often called the fear index, fell to its lowest level ever on Tuesday. The current "fear" is that when volatility does break out, so many traders are short volatility related instruments, that the short covering will explode the VIX to the upside and take equities with it (but in a negative direction). However, the VIX has been declining for years now and this is not a new argument, although the all-time low is new.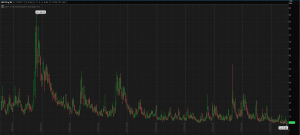 Bonds declined by 0.20% as the curve steepened. The dollar was down by 0.46% and crude had a big rally.
ECONOMY
Real GDP increased by 2.6% in Q2, up from 1.2% in Q1 and better than than 1.40% in Q2 of 2016. Consumer and government expenditures were up, capex growth moderated and residential fixed investment was down.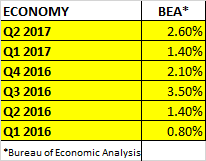 FED TO UNWIND BALANCE SHEET SOON
The Fed announces that it will begin to unwind its balance sheet "relatively soon." In FedSpeak, that normally means within a month or two. The unwinding process will be a slow, gradual affair that might not finish for about five years, assuming no recession.
IS INFLATION OUT THERE, SOMEWHERE?
Inflation is supposedly under control as we constantly hear that the Fed can't reach their two percent inflation target. But numerous industrial companies, including Ingersoll-Rand, Lennox and United Technologies have been citing high commodity prices and cost pressures. Oil was up 8.6% this past week. Copper is up 14% so far this year and is at its highest level since May of 2015. The labor market also appears tight. One must wonder if there is inflation is beginning to brew just under the surface.
WASHINGTON GOES FROM BAD TO WORSE
Things have gone from bad to worse in Washington. North Korea shot off another ballistic missile that experts said could reach Chicago. Some very hard decisions have to be made and possibly soon. The conventional wisdom is that tighter economic sanctions and more political pressure are the way to go, but that hasn't worked with North Korea in the past. Trump's patience with China is beginning to wear thin, and his natural inclination to brand China as a trade manipulator can now come conveniently into play as an offset of the North Korea problem.
Newly installed White House Communications Director Anthony Scaramucci, brought on-board after the press secretary Sean Spicer left last week, gave an interview with the New Yorker magazine filled with profanity and went after Chief of Staff Reince Priebus and others. Scaramucci was impressive at his initial press conference and seemed like a solid and sane addition, until the interview.
Later in the week, Trump fired Priebus and replaced him with Home Security Secretary and former Marine general John Kelly. Hopefully Kelly can get the White House under control.
The Republican's attempt to repair/replace the US healthcare system failed again. When you have a slim majority with just 52 Senators, and you are not interested in working with the Democrats (as the Democrats routinely would do with the Republicans in years past), you need to be close to perfect to pass legislation and the Republicans came up short. Maybe it is time for a radical (old-fashioned) approach as Senator McCain alluded to in his dramatic speech earlier this week, try to work together, Republicans and Democrats to come up with a solution that moves the debate and policy to the center.
One bipartisan effort that did succeed was the passing of sanctions on Russia, despite White House objections. The bill passed 419-3 in the House and 98-2 in the Senate.
The truth is, Trump has turned out to be what so many feared during the campaign. In Saturday's Wall Street Journal, Peggy Noonan writes "He's not strong and self-controlled, not cool and tough, not low-key and determined; he's whiny, weepy, and self-pitying. He throws himself, sobbing, on the body politic. He's a drama queen."
Trump does have some good economic ideas, and he brought on some excellent advisers, but all his side acts and his crazy behavior are making it impossible to make real progress. He needs to get off Twitter, stop talking and start leading like a normal President.
SCOREBOARD