HIGHLIGHTS
Markets roughly flat with the lowest one-week volatility since 1972.
Fed to begin unwinding its balance sheet.
War of words and name calling between Trump and Jung-un
PERFORMANCE
Not much happened in the market last week. US equities scratched out a 0.25% gain and international equities fell by 0.30%. The range on the S&P 500, from high to low, was only 0.49%, the lowest percentage since 1972. Kind of surprising given the threat of war (see below). Interest rates rose so bonds were down by 0.13%. The dollar was up by 0.54% and crude oil advanced by 1.54%.
FED TO BEGIN ASSET SALES
The long-awaited unwinding of the Federal Reserve's balance sheet is finally about to begin. The Fed's intent is to make the process as boring as possible so as not to upset the markets. Bonds will be allowed to mature and won't be replaced. This will be the first time the Fed has attempted to engage in this process in such large amounts. While the market has so far ignored the announcement, only time will tell if the unwinding does not lead to market disruptions or impact the economy in a negative manner. For now, other central banks around the world, like the ECB, continue in quantitative easing mode, so that eases this transition. But at some point, they will reverse direction also.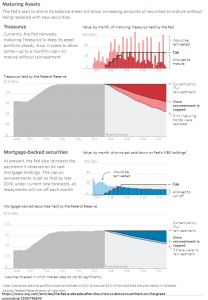 TRUMP/NORTH KOREA/TWITTER
Trump said the US would destroy North Korea if they threatened the US or its allies and called the North Korean Leader Kim Jong-un a "little rocket man." Jong-un, not to be outdone, called Trump a "frightened dog" and a "dotard." And so the war of words has begun as if we are watching two out-of-control kindergarten children. It would be funny if it was not so serious. Both leaders need some basic lessons in common sense and civility.
Apparently, though, a crisis as severe as North Korea is not enough for our President to concentrate on. He thought it a good idea to start a spat with Seth Curry, and then followed it up by taking on the NFL. How is this guy President of the United States?
SCOREBOARD