HIGHLIGHTS
US stocks were down, and international stocks rise.
Stocks wrap up the best half-year since 1997 and the best June since 1955.
Trump and Jinping declare a cease-fire on trade.
Falling GDP estimates.
MARKET RECAP
Stocks fell by 0.40% for the week but wrapped up the half-year with a walloping 18.8% gain. It was the best first-half performance since 1997. It was also the best June since 1955, +7.08%. Stocks managed gains so far despite softening economic data around the globe and increased threats of a heightened trade war. Interest rates have plummeted, the 10-year bond closed the quarter at an even 2.0%, down from 2.69% at the start of the year. And the 3-month / 10-year treasury curve remains inverted, at 12 basis points, the most since the inversion started. But none of that mattered as stocks continued higher with a lot of help due to dovish sentiment from central banks and over $13 trillion in global debt yielding less than zero.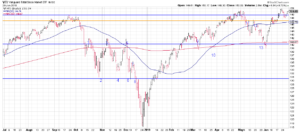 For the week, international stocks gained 0.40%, bonds were up by 0.21%, the dollar was flat, and oil increased by 1.81%.
CEASE-FIRE ON TRADE
On Saturday, after the trading week ended, President Trump and Chinese President Xi Jinping agreed to hold off on additional tariffs on Chinese goods. China agreed to buy large amounts of American farm products. Trump also agreed to remove some limits on Huawei Technologies buying equipment from the US.
GDP GROWTH
While stocks are in rally mode, the economy is not. The US clocked first-quarter GDP growth at 3.1%, but the Atlanta Fed's GDPNow growth estimate for Q2 is only 1.5%, and the NY Fed's Nowcast is coming in at 1.3%. The Nowcast estimate for Q3 is 1.20%.
SCOREBOARD