PERFORMANCE
US equity markets fell by about 1%, but international markets rallied by .68% and bonds were up .62% as interest rates dropped across the curve.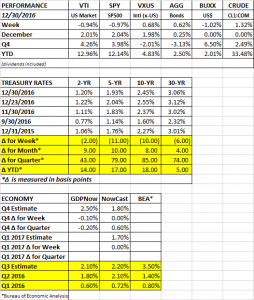 GDP REVISED UP
Q3 GDP was revised up to 3.5% from 3.2%. Growth has now averaged 1.9% this year.
CONFIDENCE
More indications that confidence is up. The Conference Board's Consumer Confidence Index hit is highest peak since July of 2007. What was interesting is that confidence was up significantly for those 55 and over but down even more for those under the age of 35. 44.7% expect stock prices to increase, the most since January of 2004.