MARKET RECAP
Stocks were up by 1.09% in the US and 1.99% outside the US. Bonds were up by 0.33%. The market was helped by expectations that the Fed may inject more liquidity into the economy.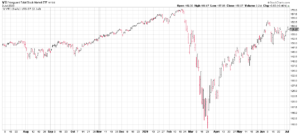 For the first half of the year, US equities were down only 3.42%, a remarkable result given the damage to the economy, while international stocks fell by 11%. Bonds were up by 6.27% for the first half as the yield on the 10-year Treasury fell from 1.83% to 0.64%.
As of today, the market is selling at about 25x this year's expected earnings, 19x next year, and 17x the 2022 estimate. These are high ratios, but on the other hand, interest rates are crazy low. The 2-year yields 0.16%, the 10-year is at 0.68%, and the 30-year is at 1.43%.
Investors have written off 2020 and are focused on the beginnings of a rebound now and further acceleration in 2021 with a return to normalcy in 2022. That might be an optimistic take, but coupled with unprecedented help from the Fed and the government, markets are not far from even for the year.
There was good news on the jobs front. Unemployment fell to 11.1% fro 13.3% as the US added 4.8 million jobs in June. However, the survey was conducted before the recent surge in coronavirus cases. 40% of the job gains were in leisure and hospitality, industries that would be hit harder if the reopening process slows down or is rolled back.
The virus continues to expand, the US has reported record numbers of new cases in recent days. But progress is being made on the vaccine front. Pfizer reported positive early results of its vaccine and says it can be available beginning in the fall and widely available in 2021. Other companies are not far behind.
SCOREBOARD