PERFORMANCE
US equity markets were basically even, +0.06% while international markets fell by almost 1/2%. Bonds declined as interest rates continued to rise and the yield curve steepened. The dollar was up and crude was down.
INTEREST RATES
It was one year ago, on July 6, 2016, that the 10-year treasury bond hit its all time-low yield of 1.367%. One year later, we are one point higher at 2.37%. The 10-year has traded in a range between 2.1% and 2.6% since the election and we are back in the middle of that range now.
Over the last couple of weeks, consensus has tilted back towards higher rates going forward. Minutes released from the June Federal Reserve meeting showed that members want to begin reducing the balance sheet before year-end. And European Central Bank minutes indicate that there were discussions of ending their pledge to buy bonds if the economy weakened. Depending upon the rate of increase, higher interest rates at some point would likely put pressure on equities. The interplay between higher earnings and interest rate will have a lot to do to determine the direction of the equity markets.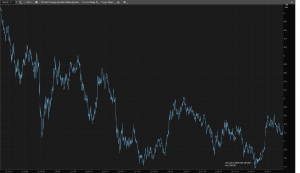 EMPLOYMENT
The June employment report came in strong. Non-farm payrolls increased by 222,000 and the two prior months were revised higher by 47,000. The unemployment rate increased to 4.4% from 4.3% due to more entries into the workforce, which is considered a positive sign. The average workweek rose by 0.1 hours to 34.50 and average hourly earnings were 2.50% higher year over year.
SCOREBOARD