MARKET RECAP
US stocks fell by 0.31% while international stocks managed a 0.14% gain. The difference, while slight, might, and we emphasize the word "might", be an early signal that the outperformance by US equities could be coming to an end, at least temporarily. The chart below details how US stocks have obliterated international stocks over the last 10-years, but at some point, there has to be some kind of reversion to the mean, and with high US valuations, the mess in US with politics and Covid, the threat of higher taxes with a possible change in the White House next year, and a declining dollar, the first hints of a change in momentum might be in the air.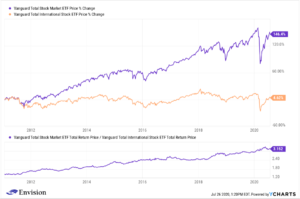 Surveys of purchasing managers show that Europe is beginning to bounce back while the US started to lag in July. Europe is now benefiting from their smarter policies in dealing with the virus, which is now under control, allowing their economies to rebound faster.
The US PMI did rise to 50, from 47.9 in June, but economists were expecting a higher number.
European leaders agreed on a $2 trillion stimulus package that would include a mix of grants, loans, infrastructure, and other public investments.
Gold hit a record high, surpassing the previous peak in 2011. On Wednesday, silver hit a seven-year high. Super low-interest rates make precious metals more competitive with currencies, and the flooding of money around the world by central banks is devaluing currencies, which in turn could unleash inflation. Tensions between the US and China are also adding to the interest in gold.
Employment rose in July but at a slower rate than the previous two months. Increases are being seen in healthcare and in transportation and storage. While the overall level of employment continues to rise, initial claims for unemployment did rise last week.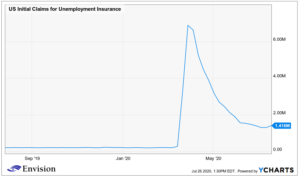 The three leading candidates for a Covid vaccine all reported positive early trial data. AstraZeneca and the University of Oxford, Pfizer and BioNTech, and CanSino Biologics all reported that their shot generated immune responses. There is the chance of a vaccine late this year.
SCOREBOARD