MARKET RECAP
Stocks were basically flat in the US and down 0.55% outside the US. The action has been in small stocks, which are at a record and are up by 25% since November 5.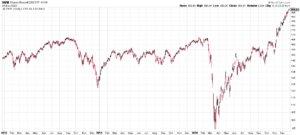 After months of negotiation and congressional approval, Trump suddenly decided he didn't like the stimulus bill, but the market wasn't disappointed, figuring congress will now come back with an even bigger package. Trump wants $2,000 in direct payments instead of $600. In a world where debt doesn't seem to matter, why not (according to Trump)?
Household spending fell in November for the first time in seven months, down 0.4%, more evidence that the virus is taking its toll. Household income dropped by 1.1%, the third decline in four months. Consumer confidence is falling, down by 4.3 points, according to the Conference Board. However, income is up 2% since February, and savings rates are at historically high levels. So whenever the virus gets under control, there is the possibility of pent-up demand will increase economic activity. The Atlanta Fed's GDPNow model is projecting Q4 growth at an annualized rate of 10.4%.
After four years the finishing touches are being put on a Brexit deal that would govern trade, totaling almost $900 billion, between Britain and the EU. The deal, for the most part, would allow tariff-free trade between the two sides and reduce paperwork at the border. It would also allow Britain to sign free trade deals with other nations.
SCOREBOARD