The pairs trade we described on December 14th could be closed out this morning. In that trade, we described how you could go long SBW and short ESD for a net outflow of about $7.92. SBW and ESD are two closed-end funds that invest in emerging market debt, they both have similar risk/return profiles. By doing this pairs trade, you would have been long and short about $10,000 of each CEF.
On December 14th, ESD was trading at a 2.65% discount to NAV and SBW was trading at a 6.80% discount to NAV. The difference was 4.14%, we set a target of closing the trade when the discount narrowed to 1.65%.
As I am writing this, SBW is trading at a discount of 2.92%. ESD is trading at a discount of 1.74%. The spread has narrowed from 4.14% to 1.18%. You could close out this transaction for a profit of $200 plus.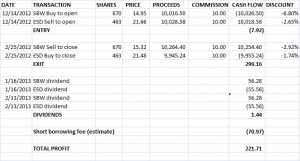 Please note there could be considerable risk in a trade like this, so always consult a financial adviser and do lots of research.
Assumptions:
1. Short borrow fee of 3.5%
2. No margin fee
3. Commissions of $10 per transaction