MARKET RECAP
US stocks were up by 2.97%, turning in their best week since February, and closing at a new high. Month-to-date, the market is up by 2.22%, and 12.34% for the year. International stocks were up by 1.55% for the week and are up by 0.48% for the month and 9.87% for the year. On Thursday, Microsoft became the second company with a valuation in excess of $2 trillion.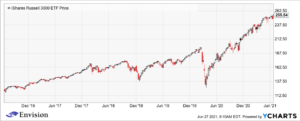 The rally this week was counter to last week, when stocks fell by 1.96% when the Fed indicated it might move up the timeline to raise interest rates. But investors were cheered when there was bipartisan agreement on a $1 trillion infrastructure plan aimed at the electrical grid, roads and bridges, and other types of traditional infrastructure. The agreement is not law yet, it will go to vote next month. $559 billion of the plan is financed by unused past spending authorizations. The financing of the remainder has yet to be determined.
Meanwhile, the Federal Reserve continues to buy $120 billion of securities each month while interest rates remain close to zero, despite the fact that the economy is almost in "boom" mode and inflation has been jumping higher. Unfilled job openings are greater than nine million. Several Fed Governors have indicated that they lean toward a quicker tightening of monetary policy, but not Powell, who thinks that the inflation surge is temporary and is sticking with the current game plan.