PERFORMANCE
US equity markets were down by about 1/2% while international markets managed a 0.19% advance. The dollar fell and crude rallied by 7%.
Interest rates rose. The yield curve got steeper. The 10-year rose by 16 basis points. Central bankers are beginning to align themselves on the path to higher rates. The Fed has been increasing rates and have signaled more is on the way, as well as laying out the plan to reduce their bond holdings. But now some central bankers overseas might be joining the party. Mario Draghi of the ECB suggested that the bank might be close to ending its bond buying. And Mark Carney of the Bank of England suggested that a rate hike might be on the way.
EARNINGS
As the quarter ended, analysts are forecasting Q2 earnings of $31.50, down from $32.13, according to FactSet. The 2% decline is lower than the drop-in forecasts in prior quarters, which have averaged 5.9% over the last 10 years.
ECONOMY
Q1 GDP was revised up to 1.4% from 1.2%. The original estimate for Q1 real growth was 0.7%, and that was later revised up to 1.2%. GDP growth has picked up in Q2, the Atlanta Fed's GDPNow model currently has Q2 growth at 2.7%. The first official estimate from the Commerce Department will be released on July 28.
The current economic expansion began in July of 2009 and is currently the third longest on record, surpassed only by expansions in the 1960s and the 1990s. However, the growth rate during this expansion has been sub-par, probably due to lower productivity and a decline in the labor force.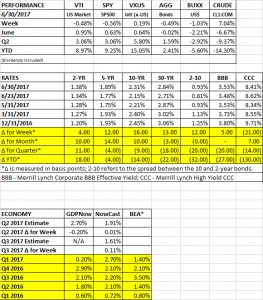 SCOREBOARD