HIGHLIGHTS
US stocks are up and end the week at a record.
International stocks fall.
Q1 GDP comes in at 3.2%, exceeding estimates.
Social Security to go into the red.
MARKET RECAP
US stocks were up by 1.25% and international stocks fell by 0.54%. US stocks finished at an all-time high. Earnings estimates increased for 2019, 2020 and 2021 this week. That was the first time since September that estimates were increased for the next three years (back in September it was 2018-2020).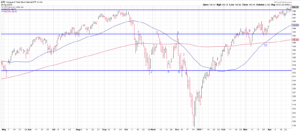 GDP
US GDP growth surprised to the upside for Q1, expanding at a 3.2% annual pace. That is up from 2.2% in Q4 and better than the consensus estimate of 2.5%. Stronger spending by state and local governments, up by 3.9%, probably due to the federal government shutdown, helped accelerate the growth. A build-up of inventories also added to the number. On the downside, consumer spending slowed to a 1.2% pace, the lowest increase in a year, and business fixed investment dropped to 2.7% from 5.4%. Investment in new housing dropped for the fifth straight quarter.
The interesting part about the result is that the outlook for Q1 was bleak at the beginning of the quarter. The initial Atlanta Fed GDPNow estimate was 0.3%. Normally, the estimates fall as the quarter goes on, but this time it went higher.
However, the 3.2% headline number may not be as good as it looks. Take away the increase in inventories, the higher government spending, and trade figures, the growth was only 1.3%.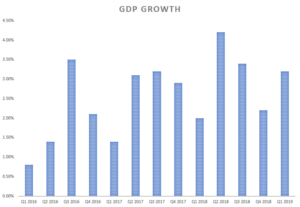 SOCIAL SECURITY TO GO RED
Social Security's costs will be greater than its income in 2020 as more and more baby boomers begin to retire. The fund currently has a trust fund of $3 trillion. By 2035, the trust fund will be depleted. What we have here is a problem that everyone has known about for decades, but was pretty much completely ignored by our political leaders. And whenever a politician was brave enough to actually recommend a solution, they were immediately attacked, harassed and shot down. Well, the day of reckoning is on the way.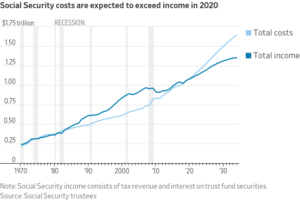 SCOREBOARD