PERFORMANCE
US equity markets fell in the US and around the world fell about 0.9%. Bond markets also fell about 0.6%. Interest rates have been rising and that has pushed bonds down and has been a drag on equities. Interest rate sensitive stocks like REITs fell. The Vanguard REIT ETF (VNQ) fell 3.6%. Regional banks rallied by 2.6% (KRE). Banks are likely to be helped by higher interest rates.

The stock chart of the SPY (SP500 ETF) is showing a descending triangle. Some technical analysts consider that a bearish pattern that shows distribution of stocks. We are slightly overdue for a pullback at this point (see our Webinar from last week, link below), and given all the political uncertainty, there is a reasonable (not definite) chance for a selloff. You can also make the opposite case that if the market can hold support in the 212 area it can break out of the triangle to the upside.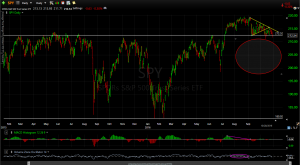 TREASURY RATES
The treasury curve continues to get steeper. The 10 and 30-year were up by 12 and 14 basis points for the week, while the 2-year increased by only 2 basis points. For the entire month, the 2-year increased by 9 basis points and the 10-year by 26 basis points.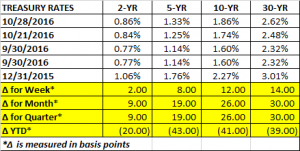 EARNINGS
According to Factset, 58% of SP500 companies have now reported earnings. 74% have beaten the mean estimate and 58% have beaten the mean sales estimate. So far, the blended earnings growth rate is 1.6%, it that trend continues, the 5-quarter losing streak for earnings (consecutive quarters of declining year over year earnings) will end.
GDP
The initial estimate for Q3 GDP by the Bureau of Economic Statistics came in at a surprisingly strong 2.90%. That beat the Q2 number (1.4%) by more than double. Meanwhile, GDPNow is estimating Q3 growth at 2.1%. The Nowcast remained unchanged at 2.2% for Q3 and 1.4% for Q4. The economy continues in slow growth mode.
LINK TO OUR QUARTERLY WEBINAR: