MARKET RECAP
The market was up every day as US stocks put in their best week since early July, advancing by 3.17% while international markets were up by 2.09%. Equities were helped by Federal Reserve Chairman Jerome Powell, who indicated he would let inflation run higher for longer, and keep interest rates low. All we can say is be careful what you wish for. The Fed's game plan should be good for gold and bad for the dollar, gold was up by 1.4% and the dollar was down by 1% for the week.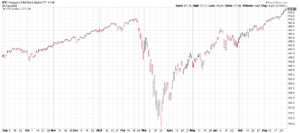 The Dow Jones Industrial Average made some changes, adding Salesforce, Amgen, and Honeywell and dropping Exxon, Raytheon, and Pfizer.
Consumer spending was up by 1.9% in July, down from 6.2% in June and 8.6% in May.
As businesses realized that a return to normalcy is not around the country, a second wave of layoffs is beginning. Companies that have announced layoffs are Salesforce (1,000), United Airlines (possibly 53,000 workers will be affected), MGM Resorts (18,000), and American Airlines (17,500).
BankruptcyData.com reported that a record 45 US companies with assets greater than $1 billion have filed for Chapter 11 bankruptcy, exceeding the 38 by this time in 2009. "We are in the first innings of this bankruptcy cycle," said Ben Schlafman, COO at the website, "It will spread far across industries as we get deeper into the crisis. It's going to be a bumpy ride."
While the market goes higher and higher with no end in sight, Liz Ann Sonders, chief investment strategist at Charles Schwab, wrote on Twitter that the put-to-call ratios measured by 5, 10, an 30-day moving averages are now at the lowest levels since 1999-2000.
The Republicans nominated Trump so the race is now on. Biden has been comfortably leading in every poll and this is his election to lose, but the Republicans see an opening and will try to take advantage of the violence and riots in the cities, and the lack of a forceful Democratic response, as the reason to give Trump another four years. This angle gives Trump at least some hope, as the betting odds have narrowed in recent days but still give Biden a 52 to 48 edge according to Real Clear Politics.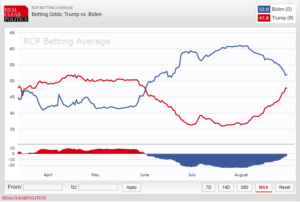 SCOREBOARD