MARKET RECAP
A quick note this week, US stocks managed a 0.58% advance while international stocks fell by 0.38%. Stocks fell hard on Monday, almost 2%, on worried about the pending default of China Evergrande Group, the big Chinese property developer. They are on hook for about $300 billion.
But by Wednesday stocks were back in rally mode and close out the week with three consecutive advances.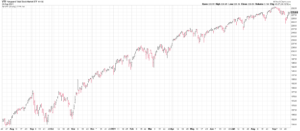 During the week the Fed said it would begin to slow down on its bond buying program, but that was expected, at least to the stock market. Bond yields jumped by 10 basis points on the 10-year.
SCOREBOARD