MARKET RECAP
The rallied continued on as US stocks were up by 2.98% and international stocks were up by 4.31%. Stocks gapped higher on Monday through the 200-day moving average and stayed there all week. For the month of May, US stocks were up by 5.4%.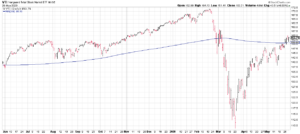 According to Bespoke Premium, over 70% of S&P 500 stocks are now trading at over 1 standard deviation above their 50-day moving average, a condition that has happened only a handful of times. On Thursday, more than 96% of stocks were trading above their 50-day moving average. The last time that happened was in 1991. Both measures indicate an overbought market.
However, in periods when stocks did trade above the 1-standard deviation marker after not having done so in the previous year, forward returns were good.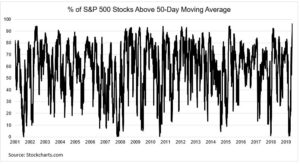 The economy is beginning to turn, although it is still at extremely low levels. The number of travelers passing through the Transportation Security Administration screening on April 14 was 87,534. On May 24, it has increased to 267,541, which is still down 87% from a year prior but up by about 3x since April 14. Truckloads are also up. "We're seeing some positive signals in household spending, in the real estate market, and in the stock market. But I don't think we can predict whether those are going to continue and this is going to be a V-shaped recovery or this is going to be a sustained, prolonged depression. Really, the answer to that is going to come from the health situation," said University of Chicago economist Constantine Yannelis.
There have been more than 40-million jobless claims since the pandemic started, but continuing claims for unemployment fell by about 4-million for the week ending May 15. The Fed's Beige Book reports that employers are having a hard time hiring people, as many are being paid more by the government to be unemployed than they could make working. Consumer spending dropped by a record 13.6% in April, while personal income increased by 10.5%, do to all of the Federal support programs.
SCOREBOARD