HIGHLIGHTS
US and international stocks down by about 0.10%.
"Peak earnings" was the term that was passed around last week.
The 10-year Treasury ends the week flat but finished higher than 3% Tuesday, Wednesday, and Thursday.
The highest level of backorders since 2014.
MARKET RECAP
The US and international equity markets were down by about 0.10% on the week. Companies continued to report blockbuster earnings, even better than expected, but that was not enough to move stocks higher.  That was due to the fear of "peak earnings", as in "it doesn't get any better than this". Those were the words that were tossed around all week. It is not that investors expect a recession in 6-months, but the rate of acceleration in earnings growth has probably peaked. The Caterpillar CFO, in a post-earnings conference call, said Q1 earnings would be the "high water mark for the year," that helped send the Dow on a 400-point tailspin on Tuesday.
But it wasn't just the fear of "peak earnings" that spooked the market. Give some credit to higher interest rates. The 10-year Treasury topped the 3% mark on Tuesday, Wednesday, and Thursday, only to close at 2.96%, the same rate as the previous Friday. A 10-year Treasury yielding greater than 3% presents competition for equities. On one hand, the market fears a flattening yield curve, represented by static long-term rates and rising short-term rates, and then when they get the opposite, with long-term rates increasing, they are still not happy.  A flattening yield curve stirs up thoughts of a recession down the line, while a steepening curve could indicate inflation.
GDP
The government reported the first estimate of GDP growth for Q1 at 2.3%. That was above estimates but lower than the 3% growth rate for the final 9-months of 2017. For the past few years, Q1 has been the slowest quarter of the year. So if recent trends hold true, GDP should expand from here.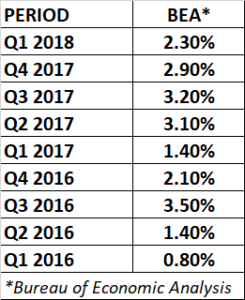 ORDER BACKLOGS HIT HIGH
The Institute of Supply Management (ISM) reports the highest backlog of orders in manufacturing since May of 2004. Supply chains are having difficulty keeping up with the demand. The same problem is occurring overseas, a shortage of labor and equipment are limiting production.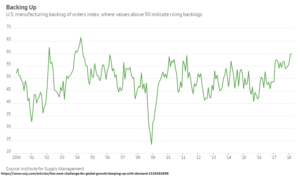 SCOREBOARD