MARKET PERFORMANCE
The market rallied on Tuesday on renewed optimism that tax reform would pass, but stalled later in the week as Trump threatened to shut down the government (see below). The S&P was up 0.72% for the week. International equities were up 1.43% and bonds increased by 0.15%. While treasury yields are generally down about 7 to 14 basis points this month, the yield on CCC bonds (high yield) are up by 52 basis points month to date, a possible warning sign.
Traders are worried about technical signals indicating a weakening market. The S&P 500 remains below its 50-day moving average. Only 45% of S&P 500 stocks are now trading above their 50-day moving average, a decline of 30 points from one month ago, according to Bespoke Investment Group. The number of stocks making new 52-week lows is on the rise. And the beginning of a trend of lower highs and lower lows continues.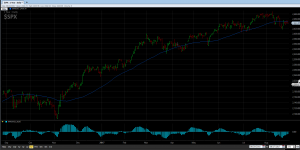 HURRICANE HARVEY
A major hurricane hit Texas over the weekend. It is too early to know the economic impact but it will be significant, at least on a regional level. There will also be an impact on energy prices. The WSJ reports that about 12% of fuel making capacity is currently out of commission. Exxon's Baytown refinery (560,000 barrels per days) and Royal Dutch Shell's Deer Park refinery (325,000 barrels per day) are both shut down. In total, about 2,000,000 barrels a day are off-line. Flood claims from the storm will push the $24.6 billion that the National Flood Insurance Program owes the US Treasury much deeper into the red, possibly putting even more pressure on Congress to reform the program. That eventually could later impact real estate prices in coastal properties around the country.
DEBT CEILING
Trump threatened a government shutdown unless Congress funds a wall on the Mexican border. As is often the case, Trump has his priorities backwards. His main emphasis should be on first getting legislation passed to increase the debt ceiling, from there, he should try to work with Congress on legislation that might actually have a chance of being passed. Trump also needs to know that running the USA is different than running his real estate operation. It never bothered him when he didn't pay his creditors in his past life, but now he represents the full faith and credit of the United States, a higher standard.
BUYBACKS
A report by Societe General on corporate buybacks shows that buybacks declined by $100 billion in the past 12 months versus the prior year. Hopefully, less buybacks and more capital expenditures would enhance long-term growth. Besides, it probably would not make sense for corporations to be buying back their stocks at elevated valuations.
ECONOMY
Home sales were down by 1.3% in July probably due to a lack of inventory.  The smaller inventory has a secondary effect of pushing up home prices. Total housing inventory was down 9% from one year ago. The median home price is up 6.2% year over year. The housing data depressed Q3 growth forecasts, the Atlanta Fed's GDPNow model fell by 0.4% to 3.4% and the NY Fed's Nowcast has Q3 growth at 1.93%, down by 0.16%.
Jobless claims came in at 234,000. A historically low number.