MARKET RECAP
The S&P 500 index had a big week as it rallied by 6.4%, the Dow gained 5.4% and the Nasdaq was up by 7.5%. On Friday, the S&P has its biggest rally in more than two years, up by 3.1%. A lot of the rally was powered by falling commodity prices and signs of a slowing economy, which investors took to mean lower inflation and less of a need to raise interest rates as high as might have been feared. As an example, cooper fell 65 on the week and is close to a one-year low, down 16% over the last three weeks.
The University of Michigan's consumer sentiment survey fell to 50, the lowest readying ever, and this survey dates back to 1952. 79% of consumers were pessimistic about future business conditions, the highest since 2009, and 47% said that inflation was "eroding their living standards." Consumer expectations of long-run inflation fell from 3.3% to 3.1% over the next five years, that is back within the 2.9% to 3.1% range that has been measured for most of the last 10-months. For the next year, consumers expect inflation of 5.4%.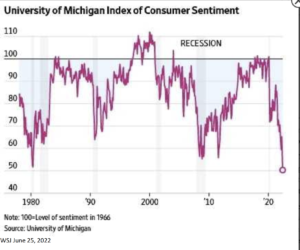 New-home sales were up by 10.7% in May while sales of previously owned homes was down by 3.4%. The rate on a 30-year mortgage is now at 5.81%, the highest level since 2008. Ian Shepherdson, chief economist of Pantheon Macroeconomics wrote that "The housing market is rolling over, and sales will fall sharply over the next few months."
The US composite purchasing managers index fell to a five-month low of 51.2 in June from 53.6 in May.