MARKET RECAP
US stocks managed a gain for the week as the S&P 500 finished up by 1.48%. Bonds also were up as yields fell slightly. The 2-year yield fell five basis points to 3.76%. The peak on the curve is about 4-5 months out at 4.8%.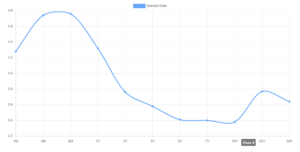 The scare in banking is hurting financing. No investment-grade credit has been issued since the collapse of Silicon Valley Bank. In the high-yield market, the percentage of distressed issues yielding 10% or more compared to equivalent Treasuries' increased to 10.6% from 7.8% seven trading days prior. Some economists estimate the hit to the economy would be the equivalent of raising rates by 1/2 point to 1.5 points. Even with that, the Fed went ahead this week and raised rates by 1/4 point.
An aggregate M-Score for almost 2,000 companies shows the probability of fraud in the group is at the highest level in 40 years. The M-Score, developed by Messod Beneish from Indiana University, worked with several co-authors to measure the aggregate score. The M-Score received prominence for spotting problems with Enron three years before its collapse. It measures if companies are getting too aggressive with their accounting and/or committing fraud. The metric often rises rapidly before a recession.
All in all, the probability is increasing that a recession is coming.
One big winner is gold; GLD is up by 9.5% year-to-date.
SCOREBOARD