HIGHLIGHTS
US markets hit record highs.
Trump, while still contesting the election, announces he will cooperate on transition.
Extreme bullish sentiment.
A very strong preliminary Markit Composite Index report.
But jobless claims are up for the second week.
The pace of the increase in the virus is slowing but Thanksgiving might provide another jump.
MARKET RECAP
The Dow broke the 30,000 barrier on Tuesday for the first time and is now up about 60% since the March low. In the last couple of weeks, positive vaccine news gave the market a possible end date on the pandemic, and Trump announced on Tuesday he would cooperate with Biden on the transition, those were enough reasons for investors to move stocks to the historic highs.
This is a market that can really do no wrong. It continues to move higher, counting on a booming recovery when the virus ends, while simply ignoring a virus that seems to be everywhere and its economic fallout.
The rally has been broadening as more stocks are joining in. The Russell 2000 index small-cap companies reached a new record and international stocks are close to topping their 2018 peak.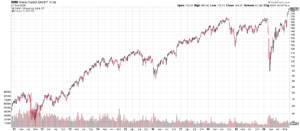 Bullish sentiment is everywhere, and in the past, that has sometimes been a precursor to either underperformance or a decline. The chart below shows bullish sentiment as measured by the AAII (American Association of Individual Investors) versus the S&P 500. Bullish sentiment hit very high levels two weeks back.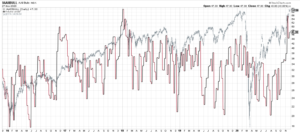 Likewise, CNN's Fear and Greed Index came in at 92 this week, indicating extreme greed.
There is some good news in the economy, even in the face of rising virus numbers. The IHS Markit composite index of US business activity increased to 57.9 in November, up from 56.3 in October. The increase, which is a preliminary estimate, would be the fastest pace of growth since March of 2015 and represents a positive divergence from Europe, where their measure has been sinking.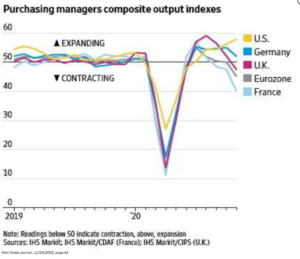 But there is also more negative news. Jobless claims rose for the second week in a row, now at 778,000 from 758,000 last week.
As for the virus itself, the pace of growth seems to have slowed, but there is the threat of another ramp up coming off the Thanksgiving holiday.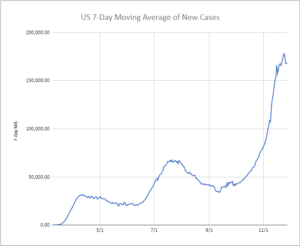 SCOREBOARD