HIGHLIGHTS
The US falls while international stocks rise.
Strong earnings report.
Signs of a weakening employment market.
The Covid surge is back in full force.
Treasury yields are rising on the long end curve.
MARKET RECAP
Stocks fell by 0.40% in the US as hopes for a stimulus package wavered up and down during the week. Overseas, the markets did better, advancing by 0.60%. Earnings so far have been positive, 83.7% have beaten forecasts and the average earnings have topped expectations by 17%, this is compared to 65% and 3.5% on average, respectively.
The size of the labor force fell in more than half of the 30 states that showed a decline in unemployment rates last month. That is a signal of a weakening labor market. The unemployment rate is a function of people finding new work, those who cannot find work, and others who left the workforce entirely. When people stop looking for work, it pushes the unemployment rate down, even though it is actually indicative of weakness, not strength.
The Covid virus is back at full strength in the US, reaching the highest level since July as communities across the country open up. The virus is now beginning to circulate in higher numbers in rural type areas and people in their 30s and 40s are the main age group, compared to 18-24 in the previous peak. The surge is arriving earlier than was expected. The numbers are also surging in Europe.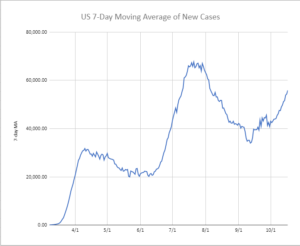 The 10-year yield has ticked up to 0.87%, which is the highest yield since June, as the bond market begins to anticipate a Democratic sweep and a massive stimulus bill. The deficit could expand by $5 trillion-plus under such a scenario. The difference between the 10-year and 2-year yields reached 71 basis points on Thursday, which is the most since February of 2018.
China posted 4.9% growth in the third quarter, slower than what was expected but still good relative to the rest of the world. Its growth rate continues to catch up with last year. China is the only major economy to grow this year.
SCOREBOARD