MARKET RECAP
The S&P 500 rallied by 2.5% this week and US stocks broke the declining trend line and also broke above the 200-day moving average, a positive sign that maybe, and we emphasize "maybe", the market is entering a new positive phase. The NASDAQ is up by 11% so far in 2023.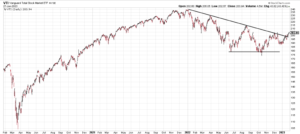 The M2 money supply, which measures the amount of money in the economy,  declined by 1.3% year over year in December. The first decline ever, since the Fed started publishing the statistic in 1959. However, compared to pre-pandemic, M2 is 37% greater.
Consumer spending declined by 0.2%.
The Personal Consumption Expenditures Index (PCE) increased by only 4.4% year over year, another sign that inflation is abating.
There were only 186,000 new jobless claims, a low number. But the number of temporary jobs has fallen for five straight months. Falling temporary jobs has often been a precursor to a recession.
SCOREBOARD