HIGHLIGHTS
Stocks advance by 0.30% in the US but fall outside the US by 0.95%.
The trade war with China is "put on hold".
Trump cancels the summit with North Korea.
Anti-establishment parties to govern in Italy.
The ruling party in Spain is involved in a kickback scheme.
Trump considering tariffs on automobiles in the name of national security.
Treasury yields fall.
Oil prices have a big drop.
MARKET RECAP
It started out as a good week on Monday, as the market rallied on news that the possible trade war with China would be put on hold. But as the week wore on, stocks drifted slowly lower but did manage a small gain for the week. The US market was up by 0.30% but outside the US, equities fell again, down 0.95%. Trump canceling his summit with North Korea, the rise of anti-establishment parties in Italy and a kickback scheme involving the ruling party in Spain held stocks back. Not to mention, the Trump administration, out of nowhere, said it was now considering tariffs on imported automobiles in the name of national security!
Interest rates in the US declined, partly on the safe-haven trade, falling oil prices, Trump's auto-tariff proposals, and Fed minutes showing that interest-rate increases would remain gradual. The yield on the 10-year Treasury dropped by 13 basis points to 2.93%. It was the biggest one week decline since April of 2017. The spread between the 10-year and the 2-year Treasury is now 45 basis points (the April low was 41 basis points).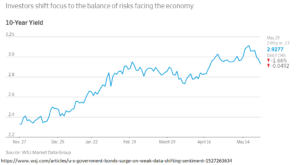 Oil prices fell sharply, down 4.77% on the week, and most of that on Friday, as Russia and Saudi Arabia reached a deal to increase oil production.
SCOREBOARD