MARKET RECAP
Stocks closed the year with a slight loss of 0.1%. The overall US stock market returned -19.51% for the year, the S&P 500 was down by -18.17%,  international stocks were off by -16.09%, and bonds were down -13.02%.
The Dow did the best, dropping by 8.8%, while the NASDAQ fell by 33.1%. Investors will watch how stocks perform during the first five days of the year. According to the "Stock Trader's Almanac," "the last 47 up First Five Days were followed by full-year gains 39 times." That equates to an 83% accuracy ratio with an average return of 14%.
Analysts did a good job predicting earnings for 2022. According to Bloomberg, the consensus was for $221 per share in S&P 500 adjusted earnings, and right now, it looks like that estimate will close to the target. But they were way off on the price of the index. The forecast was for the S&P 500 to end the year at 4,950, which was way higher than the 3,821.62 closing price. For 2023, the average estimate is 4,078. So you can probably assume that estimate is the one number the index won't be close to; only seven times in 23 years of data has the forecast been within 5% of the consensus.
Economists expect a recession in 2023.
Q3 GDP was revised up to 3.2% from 2.9%. According to the Case-Shiller index, home prices fell for the fourth straight month, down by 0.3% in October.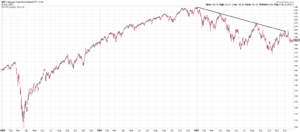 SCOREBOARD