MARKET RECAP
Unemployment spiked to 14.7% in April as 20.5 million workers lost their jobs. 10-years of job gains were wiped out during the month. Meanwhile, the stock market continues to take an optimistic view as US stocks rose by 3.99% and international stocks were up by 3.02%. The NASDAQ composite turned positive for the year. Bonds fell by 0.35%.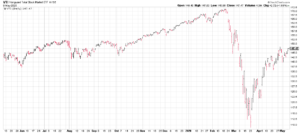 A good portion of why the market is going up when the economy is going down is driven by the outperformance of a few big tech companies like Microsoft, Apple, Amazon, Alphabet, and Facebook. Investors also have already written 2020 off and are looking at 2021 and beyond. Also, companies have been able to raise a lot of capital by the Fed backstopping the bond markets. The Fed's balance sheet has expanded by $2.4 trillion over the last eight weeks. And the yield on the S&P 500 is 2.07% versus a 10-year treasury yield of 0.69%.
Earnings estimates for this year are falling fast. Earnings for the S&P 500 is now estimated to be $128.02, which is down from its peak at the beginning of the year of $177.26, a drop of 27.8%.
SCOREBOARD