MARKET RECAP
It was another big week for stocks as the overall US market jumped by 3.78% and international equities were up 2.78%. On Monday stocks were up by 3.31% after getting a double-barreled boost from Fed Chair Jerome Powell and then vaccine maker Moderna. During a 60 Minutes interview on Sunday, Powell said "There's really no limit to what we can do." Then, on Monday morning, Moderna reported that the early results from its coronavirus vaccine, given in March to eight volunteers, appear successful. The shots were safe and well-tolerated and boosted antibodies to levels similar to people who had recovered from Covid-19.
While the market has had an incredible comeback rally, the market is not out of the woods yet. The VTI sits just under the 200-day moving average. Rallies sometimes falter at that spot.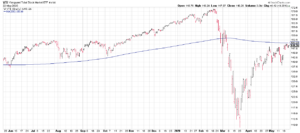 The US economy is starting to reopen. Staying indoors is switching to going outdoors. While toilet paper was the hot commodity early on, now bicycles are riding off the shelves. You can't find one at Wal Mart or the other big retailers.
The big retailers are doing more than just selling bicycles, they are turning into the winners at the further expense of small businesses across the country. Wal-Mart posted better than expected results. Target's Q1 digital "comparable sales" increased by 41%. Both Lowe's and Home Depot had an 80% increase in e-commerce sales.
But retailers like JC Penny, which never established a strong online presence, are in trouble. JCP filed for bankruptcy last week and plans to close 240 of its stores or about 30%. JCP joins Neiman Marcus and J. Crew in Chapter 11.
SCOREBOARD