HIGHLIGHTS
Watch our Quarterly Webinar here.
US stocks fall slightly and are just under all-time highs.
International stocks advance.
A very good retail sales report.
Industrial production in China was up 8.5% for March.
MARKET RECAP
US stocks fell slightly, down by 0.28%, failing to break through the September 20th high. The market is less than 1/2% from that closing high. International stocks managed a gain of 0.32%. Bonds fell by 0.07%.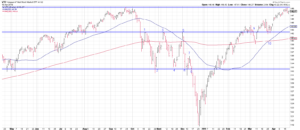 There was some good economic news this week. A solid retail sales report and good industrial numbers for March in China, see below.
QUARTERLY MARKET REVIEW
Our quarterly market review/outlook was published today on YouTube. You can view it here at this link.
RETAIL SALES
Retail sales for March were up 1.64%, the increase was much higher than the consensus and it was the largest increase since September of 2017. The high number helped increase the Atlanta Fed's GDPNow estimate of Q1 growth to 2.8% from 2.3%.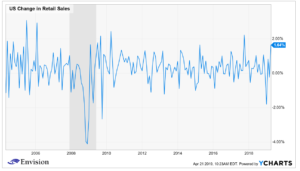 CHINA
Industrial production in China jumped by 8.5% in March from a year earlier and the economy grew by 6.4% in the first quarter. The 6.4% increase even with Q4 and just below prior quarters but gives hope that China is beginning to stabilize. Lower taxes and regulation from the Chinese government spearheaded the improvements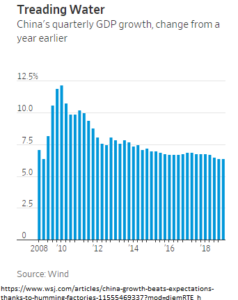 SCOREBOARD