HIGHLIGHTS
Chinese leader Jinping says he will relax barriers to trade.
Trump to reconsider entry into the TPP.
Stocks move up by 2%.
Earnings season off to a good start.
The CBO projects that deficits will explode higher sooner than anticipated.
Crude oil hits a three-year high.
MARKET RECAP
It was another week filled with non-stop news. Two Saturdays ago, on April 7, the Syrians launched a vicious chemical attack on their own citizens. On Sunday, Trump said that there would be a "big price" to pay. On Monday, the FBI raided the office of Trump's personal attorney, Michael Cohen, as part of a wide-ranging corruption investigation. Also, on Monday, the CBO released their latest budget projections. On Tuesday, Chinese leader Xi Jinping promised to relax barriers to trade. And then House Speaker Paul Ryan, announced that he will not run for reelection. Ryan was one of the only members of Congress to even talk about the threat of the budget deficit. Then on Thursday, Trump said he was open to rejoining the Trans-Pacific Partnership. Friday night, hours after the market closed, the US, along with Britain and France made good on Trump's promise earlier in the week, launching missile attacks against Syrian facilities used for chemical weapons storage and research facilities.
It was Jinping's comments about trade that moved the market the most. Stocks jumped by 1.62% on Tuesday on his remarks. For the week, US stocks were up 2.02% and international stocks were up 1.77%. Oil advanced by 8.59% and bonds were down slightly. The 2-10 yield curve dropped to 45 basis points.
From a technical perspective, the market held above support and above the 200-day moving average. However, on every day except Tuesday, stocks closed near their low for the day.
EARNINGS
Earnings season got underway. According to Thomson Reuters, of the 30 S&P 500 companies that have reported earnings so far, 70% have beat expectations. That is above the 64% long-term average, but below the average for the last year of 75%. The forward p/e is now at 16.4.
DEFICITS
The nonpartisan Congressional Budget Office announced that US budget deficits will cross the trillion-dollar mark in 2020, two years sooner than previous projections. And that is based on optimistic assumptions such as 3.3% growth this year, unemployment of 3.8% this year and 3.3% next year. In percentage terms, the deficit this year will be 4% of GDP, an increase over the 3.5% last year. By 2019, the deficit will be 4.6% and eventually peak at 5.4% in 2022. But in an "Alternate Fiscal Scenario", the CBO sees a 6% deficit in 2022 and debt in excess of 100% of GDP by 2027. Both of these projections assume no recession, an unrealistic assumption if there ever was one.
The deficits are blowing up because of the recent Trump tax cuts as well as a wave of red ink that is about to arrive due to the structural problems with social security and Medicare. The US is going to be forced to reverse in some manner the recent tax cuts down the line. And politicians on both sides of the aisle have refused to deal with the structural deficit problems for decades now.
TRADE
In a reversal of trade tensions, Chinese leader Xi Jinping announced on Tuesday that he would reduce tariffs on cars, improve protection of intellectual property and open up the financial industry. And then on Thursday, Trump said he would consider rejoining the Trans-Pacific Partnership (TPP). This was after Trump pulled out of the deal after becoming President, and after spending a good portion of his campaign railing against the TPP. Part of the President's reasoning might be the threat posed by a rising China. American entry into the TPP, if the other countries would even take the US back in, would be a smart economic and strategic tie-in with one of the fastest-growing regions in the world.
CRUDE OIL
Oil prices ended the week at a three-year high on strong demand and geopolitical tensions. As shown below, the oil glut has worked its way through the system and supplies are back to more normal levels. The threat of military action in Syria and tensions with Iran are also pushing prices higher. In its Friday report, the International Energy Agency (IEA) said that it expects demand for oil to grow by 1.5 million barrels a day in 2018. On top of that, oil production by OPEC nations has been trending lower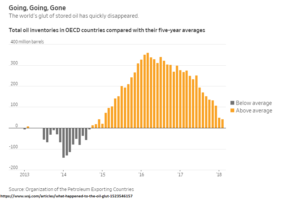 SCOREBOARD