HIGHLIGHTS
Equities were up by 0.67% and are now positive for the year.
The spread between the 10 and 2-year treasury hit the lowest level since 2007 on Tuesday at 41 basis points.
The yield on the 10-year treasury closed at its highest level since January of 2014.
Earnings reports have been strong and the forward p/e on the SP500 is now 16.6.
An IMF report shows the magnitude of the US deficit problem.
MARKET RECAP
Equity markets rallied on the week, US markets were up by 0.67% and international stocks increased by 0.14%. The rally was good enough to turn US equities positive for the year. But stocks are by no means out of the woods. Stocks advanced on Monday, Tuesday, and Wednesday, but fell on Thursday and Friday. And when looking at a weekly chart, if this coming is week is down, that would be two successive lower highs. Support in the 253-255 level is still crucial to prevent what could turn into a bigger decline.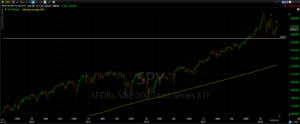 Interest rates were in the news this week. The spread between the 10 and 2-year Treasuries fell to 41 basis points on Tuesday, the lowest differential since August of 2007. But the 10-year yield jumped higher on Thursday and Friday to close at 2.951%, to widen the spread all the way up to 50-basis points, basically even with the year-end value at 12/29/2017 of 51. The10-year's closing yield of 2.951% is the highest for this year and the highest since January of 2014. As interest rates rise, all other things equal, investors will have the incentive to move from equities to fixed income, pushing down p/e ratios.
EARNINGS
Earnings reports continue to be positive. Q1 earnings should now be up by 20% according to Thomson Reuters. About 80% of companies reporting so far have beaten estimates and 71% have topped sales estimates. The current forward p/e is 16.6, a somewhat reasonable level.
US DEFICITS
Exploding US deficits are starting to seep more and more into the news. The two graphs below show the magnitude of the problem. An IMF report shows the US is the only advanced economy expected to show an increase in the debt-to-GDP ratio over the next five years.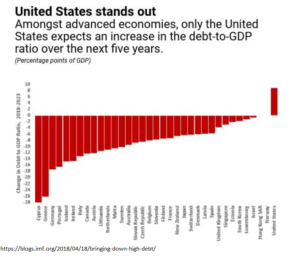 The chart below shows how the cost of paying off just the interest on federal debt is going to massively increase in coming years, hitting north of 20% in future years. That is up from the 2017 number of 8.1%. Only Italy currently pays more.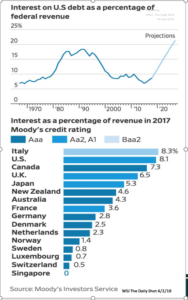 If the recent tax cuts do not generate the hoped-for growth in the economy, taxes will be increased at some point in the next few years.
SCOREBOARD