MARKET RECAP
Stocks were up for the week by 10.74% in the US and 10.07% outside the US. On Monday, the Fed stepped in and said it would buy unlimited amounts of Treasury and mortgage bonds but the market shrugged it off, investors were more concerned that Congress did not seem close to passing a relief bill. Stocks fell by 2.84%. But that all changed on Tuesday, as stocks had their best day since 1933 as stocks soared by 9.48% on hopes that a massive stimulus deal was close to passing. Treasury Secretary Mnuchin and Democratic leader Chuck Schumer announced they were close to finalizing a deal. The rally continued on Wednesday (+1.30%) and on Thursday (+6.07%) before falling on Friday by 3.19%.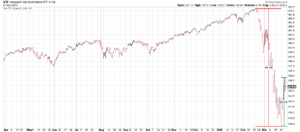 The three-day rally from Tuesday to Thursday was good for a 17.74% advance in the overall US stock market. But if you measure from the Monday low to the Thursday high, stocks shot up by 20.22%. It was the best three-day run since October 5 to October 8, 1931, when the Dow was up 22.33%. That is not the kind of company you want to keep, as that was in the heart of the Great Depression. From that point in 1931, the market went up another 10.4% until November 9 (up by 34.81% from October 5) and then stocks would fall by 64.71% until the Dow bottomed on July 8, 1932.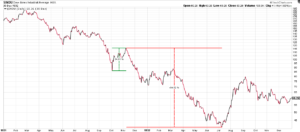 On Friday, Congress passed and the President signed a $2 trillion dollar federal relief package. That represents about 9% of GDP and its purpose is to keep some semblance of economic stability for the next few months. There will need to be more in the coming months.
The shutdown of the economy is a shock we have never experienced before. In the first week, unemployment claims went from 271,2000 to 3.28 million. There will millions more let go in the coming weeks.
Are we headed for a depression? The 1930s never saw any kind of government help especially like we are seeing now. With government support, the odds of a depression would be less, but we have never seen a forced shutdown of the nation. In a worst-case, if this virus keeps the nation and the world shut down for quarters, rather than weeks or a month or two, it cannot be ruled out.
We are going to take the positive view that the country will peak out in new cases sometime in April, cases will ramp down along the same timeline that they ramped up, and then widespread testing, tracing, quarantines, social distancing, and other common-sense measures can keep the virus under control at the same time the country, or at least parts of the country, can get moving again. And, more importantly, we get saved by science in the form of therapeutics and then a vaccine. That, plus government support, avert the worst and get the economy moving again.
Former FDA Commissioner Scott Gottlieb wrote this on Twitter on Saturday, "April will be a hard month but we'll get through it. This will end. We need to stick with current strategies. We can look toward May as a month when we carefully transition to a new posture. For now, [the] focus must be on supporting healthcare systems, preserving life, ending epidemic spread,"
How long the nation is sidelined and how long it takes to get the virus under control will be the major determinants in when we can begin to recover and how long that will take. While it now seems like any recovery would be measured in years, civilization has often surprised. This is what John Stuart Mill wrote in 1848,
"What has so often excited wonder, is the great rapidity with which countries recover from a state of devastation, the disappearance in a short time, of all traces of mischief done by earthquakes, floods, hurricanes, and the ravages of war. An enemy lays waste a country by fire and sword, and destroys or carries away nearly all the moveable wealth existing in it: all the inhabitants are ruined, and yet in a few years after, everything is much as it was before." John Stuart Mill, Principles of Political Economy, 1848
The number of new cases, which is the key metric to plot the growth of the disease, seems to have plateaued in Italy at around 5,500 to 6,000 cases per day for the last week. If the stay-at-home measures that are in place in Italy are working there, and if the experience of Korea and China holds, there should be a consistent decline in new cases soon.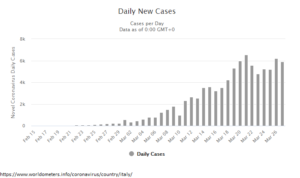 In New York, it is too early to say if the peak has been reached but the new case count has not expanded in the last few days.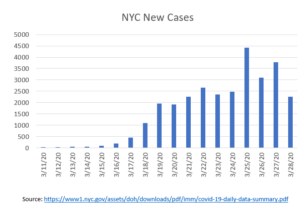 But cases in the USA and Florida continue to increase.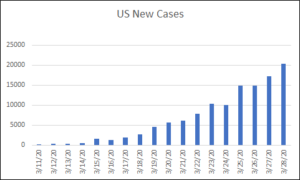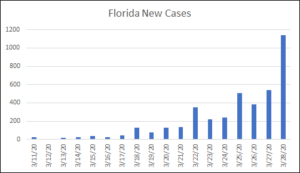 On the therapeutic front, many companies, universities, and research labs are working around the clock to develop drugs to help. As an example, Regeneron Pharmaceuticals (REGN) has identified antibodies that could neutralize the virus. Clinical trials should start in June. Roche (RHHBY) already has clinical trials underway for an existing drug called Actemra. Abbot Labs (ABT) announced a test that can detect Covid-19 in five-minutes. These are just a few examples.
On the investment front, in regards to equities, we would lean towards high-quality companies with strong balance sheets, consistent earnings over time, and high return on equity. Equities that are in a position to benefit from a stay-at-home nation can also be considered. Contact us with any questions.
SCOREBOARD