MARKET RECAP
In the midst of the continuing bank chaos, gold hit an 11-month high, and bitcoin rose to over $27,000 from about $20,000 last week. The S&P was up 1.4% for the week but down 3.2% over the past two weeks. The Nasdaq is up by 4.4%.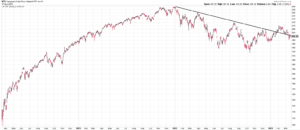 The Feds were active this week in trying to keep bank depositors calm to stem a run on the small banks. Signature Bank was taken over, and 11 major banks deposited $30 billion in First Republic Bank to help keep the bank afloat. A program was put in place to lend money to banks in need. Then the Swiss central bank had to back Credit Suisse Group to the tune of $53 billion. Treasury Secretary Janet Yellen said, "Americans can feel confident that their deposits will be there when they need them." The overall turmoil increases the odds of a recession.
At least for now, the bank problem is one of liquidity, not solvency.
As quickly as bank stocks were selling off, there was wild demand for Treasuries. Since March 8th, the yield on the 2-year treasury has fallen by 124 basis points from 5.05% to 3.81%. The 10-year has dropped from 3.98% to 3.39%. The three-month t-bill is now at 4.52% from 5.06%. Gold is up 8.4% and oil is down 13.4% in the last eight days.
But the overall market is not in panic mode. The VIX is at 25.5 and junk bonds trade in a normal range.
Commercial real estate might be the next big problem. They make up 24% of all bank loans, and many are at risk of default.
SCOREBOARD