HIGHLIGHTS
US stocks fall by 1.73% and international stocks were down by 2.33%.
Trump hikes tariffs on China.
Uber's IPO turns negative.
MARKET RECAP
The market rally since the December 24th low had been powered by a dovish turn by the Fed and the anticipation of a trade deal with China. Well, you can take the trade deal with China off the table, at least for now, as President Trump surprised the markets on Monday by tweeting that he was going to increase tariffs because of backtracking by China in trade negotiations. That set off a rough week, with the S&P 500 falling by 2.2%. About $2 trillion in equities values vanished according to Refinitiv with the loss. Trump followed through on his promise implementing a 25% tariff on $200 billion in Chinese imports. The market did manage to finish up on Friday after being down by about 1.5% on hopes that the two countries would eventually reach a deal.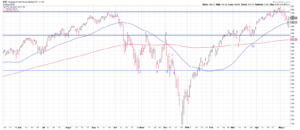 UBER
Uber turned in one of the worst IPO's in recent memory. Closing at $41 after being priced at $45 per share. Investors are not so keen on a company that is generating $1 billion in quarterly losses.
SCOREBOARD