HIGHLIGHTS
Stocks around the world were up for the week.
A very strong jobs report.
Best productivity report since 2010.
The Fed holds steady on interest rates.
ISM numbers are down.
Eurozone reports better growth.
Chinese PMI falls
MARKET RECAP
US stocks advanced for the by 0.33% and international stocks were up by 0.56%. A strong jobs report on Friday helped the market finish in the black for the week. It was the best first four months of the year since 1999.
JOBS
It was another strong jobs report as 263,000 jobs were added in April and the unemployment rate dropped to 3.6%, the lowest rate since December of 1969. Average hourly earnings were up by 3.2% year over year. On the downside, the US workforce fell in April.
PRODUCTIVITY
Nonfarm worker productivity improved at the fastest rate since 2010, up by 2.4% year over year. Normally, productivity rises earlier in an expansion, not later, so the acceleration 10-years into the cycle is a positive sign that the economy might be able to go longer without a recession. Higher productivity also means that the economy can grow at a faster pace without kindling inflation.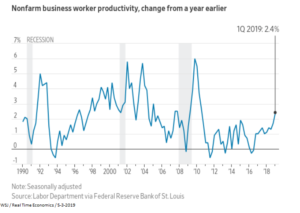 WAIT AND SEE
The Federal Reserve did not change interest rates at their meeting this week. Chairman Jerome Powell said, "Overall the economy continues on a healthy path, and the committee believes that the current stance of the policy is appropriate." Core inflation was up by just 1.6% in March, lower than the 2% target. Powell said that temporary factors kept inflation lower than the target. Lower inflation would give room for the Fed to cut rates.
ISM
The Institute for Supply Management's Purchasing Managers Index fell to 52.8 in April, the lowest reading since October of 2016. That means that manufacturing is still growing (above 50 is expansionary) but the pace of growth is slowing. The trend is down. "We're coming down faster than I would really like," said Timothy Fiore, chairman of the ISM's Manufacturing Business Survey Committee. Concerns include tariffs on China and Trump's threat to close the US-Mexico border. There is some hope that with global economic activity stabilizing, manufacturing in the US might see some improvement.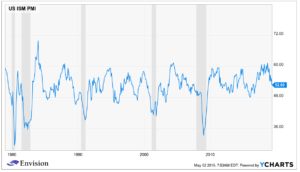 EUROZONE GROWTH INCREASES
Eurozone's GDP increased by 1.5% for the first three months of the year, up from 0.9% in Q4. That is now two consecutive quarters of improving growth. The 1.5% does not match the US rate of 3.2%, but at least it moving in the right direction.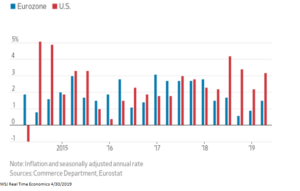 CHINA PMI IS DOWN
While the Eurozone had some positive news, that was not the case in China this week. The official manufacturing purchasing managers index fell to 50.1 in April from 50.5 in March. The number still shows expansion (above 50) but raises questions if China's policies to stimulate growth will be effective.
SCOREBOARD