MARKET RECAP
The White House and China, falling right in line with the trade war playbook (that has led to economic declines), exchanged tariff threats on Monday, leading to the worst daily performance since December. The S&P dropped 2.4% and the Nasdaq fell 3.4%. Beijing said they would increase levies on $60 billion in US imports and Washington responded with 25% tariffs on $300 billion in Chinese imports to start this summer. Despite a good performance on Wednesday and Thursday, the Monday drop was too much to overcome, and US stocks ended down by 0.87% and international stocks were off by 1.58%. Bonds rallied by 0.33%.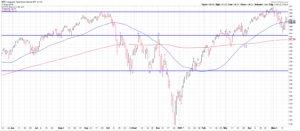 HUAWEI
A White House decision to limit Huawei Technologies access to US markets has now ramped up the trade dispute to a much higher level. Huawei is perceived as the top technology company in China and one that the Chinese population takes pride in. Taking action against a specific Chinese company will probably lead to retaliatory action against specific US companies, maybe Apple to start.
LEADING ECONOMIC INDEX
The Conference Board's Leading Economic Index for April increased by 0.2% while the Coincident Economic Index increased by 0.1%. The spread between the leading index and the coincident index has now increased just slightly the last three months. A spread that is falling has often been a sign of a recession down the road.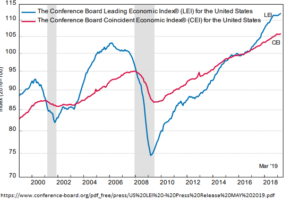 DOWNSIDE PROTECTION
According to a Bank of America Merrill Lynch fund manager survey, 34% have purchased protection against a sharp fall in stocks over the next three months. That is the highest percentage in the survey's history and might be a contrary indicator.
SCOREBOARD