MARKET RECAP
Equities fell by 2.45% in the US. However, stocks had a big Friday rally, with the NASDAQ up by 3.8% and the S&P 500 by 2.4%. That followed a late Thursday rally. From the Thursday low to the Friday close, the S&P 500 rallied by 4.3%. Up volume represented more than 90% of the overall volume on Friday, a somewhat rare occurrence that has often (not always) been associated with the end, or short-term end, of bear markets.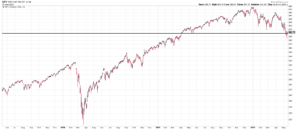 From it's intraday high on January 4th to its intraday low on May 12th, the S&P fell by 19.92%, about as close to a bear market as you can get (normally defined as a 20% drop).
The consensus everywhere is that there is more downside to come.
The S&P 500 has fallen for six straight weeks, the last time that happened was during the 2011 European debt crisis.
Investors are more and more coming to the belief that a recession is likely. Fed Chair Jerome Powell said on Thursday that getting inflation under control could case some short-term pain to the economy.
The producer-price index increased at an 11% annual rate in April, down from the month prior but higher than the consensus estimate. The CPI was up by 8.3%, down from 8.5%, but there is little evidence that inflation has peaked. The April decline in energy prices has reversed, and oil prices are close to highs, and inflation in the service sector is ramping up. One spot of good news, prices of soybeans should drop this year on higher supply and lower demand.
In what might be a sign of a turn in hiring, some tech companies have indicated their fast pace of hiring is coming to a pause. Twitter, Amazon, Uber, Facebook and other have indicated they are either freezing or slowing down hiring. Carvana and Peloton have announced layoffs.
The cryptocurrency stablecoin TerraUSD, designed to always trade at $1, ended the week at 13 cents. Even in the world of digital assets, or maybe more so in the world of digital assets, a run on the bank (without the Fed backing you) is almost impossible to stop. Terra's sister currency Luna, fared even worse, it was trading at less than one-half cent, down from $60 on Monday.
Elon Musk's deal for Twitter is on hold, Musk puts the blame on the number of fake accounts. Twitter shares were already substantially below the $54.20 offer price (around $45) reflecting a belief that the deal wouldn't go through.
SCOREBOARD