HIGHLIGHTS
US stocks up by 0.65% and international stocks by 1.74%.
The p/e on the S&P 500 is almost at the year-end record set in 2017.
US and China reach a "phase one" trade deal.
Democrats agree to support the North American trade pact.
Boris Johnson wins in the UK.
Retail sales fall short.
Volker's final note.
Spending spree by governments around the world.
MARKET RECAP
Stocks were up again on several positive developments. The US advanced by 0.65% and international stocks jumped by 1.74%. The US and China reached a "phase one" trade deal, the Democrats have agreed to support the North American trade pact (with some minor changes), Boris Johnson's Conservative Party had a runaway victory in the UK, and both the Federal Reserve and the European Central Bank announced that low-interest rates would continue. Now it is true that the market had anticipated most of this, but at least they are in the bag now. We will see if the market "sells on the news."
Stock prices have gone up, but earnings estimates haven't. The estimate for earnings on the S&P 500 is now $162.06, down 6.8% from the projection at the end of 2018. The S&P is now selling at a price/earnings ratio of 19.55, just shy of the highest year-end ratio of 20.25 level (since 2004) reached at the end of 2017, indicating that stocks are getting expensive based on this metric.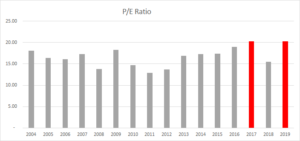 PHASE ONE TRADE DEAL
The US and China agreed to a limited trade deal. Existing tariff rates on Chinese goods will be reduced by about half, the new levies that were set to start on Sunday will be canceled, and China will buy $200 billion over two years of agricultural goods, along with energy and other products, in 2020. If China fails to follow through, the tariffs will be reinstated.
Key US issues such as subsidies to Chinese businesses and technology transfer do not appear to be part of this deal.
RETAIL SALES MISS ESTIMATES
Retail sales fell short of estimates in November. Sales were up 0.2% compared to an expected 0.5%. Take out autos and gas and sales were flat. The disappointing report follows an October when sales exceeded expectations.
PAUL VOLKER'S FINAL NOTE TO AMERICANS
Paul Volker, the legendary former Federal Reserve Chair who broke the back of inflation in the 1980s, passed this week. In an essay published in the Financial Times posthumously, Volker said, "When I was writing my book, I observed that President Donald Trump had not attacked the independent U.S. Federal Reserve, for which I was grateful. To say that is no longer true would be an understatement. Not since just after the second world war have we seen a president so openly seek to dictate policy to the Fed. That is a matter of great concern, given that the central bank is one of our key governmental institutions, carefully designed to be free of purely partisan attacks. I trust that the members of the Federal Reserve Board itself, the members of Congress responsible for Fed oversight, and indeed the public at large, will maintain the Fed's ability to act in the nation's interest, free of partisan political purposes."
POLITICIANS GONE WILD
The election of Boris Johnson as UK Prime Minister will bring along a surge in government spending. Johnson has promised voters $128 billion in infrastructure spending and billions more on healthcare.
The UK will be the latest government to go on a wild spending spree. The US is a leader of the pack, as the US budget deficit topped $1 trillion in the fiscal year ended 9/30/2019.  Japan just approved a $120 billion stimulus plan.
Adam Posen, from the Peterson Institute for International Economics, thinks the public spending is needed. Low-interest rates and investing in infrastructure that needs improvements could bring a positive payoff. But Ken Rogoff, an economics professor at Harvard, says that governments need to be aware that low-interest rates may not last forever, "The notion that it's just free, that we can just spend more money and no one's going to pay for it, is very naive," he said. We agree.
SCOREBOARD