MARKET RECAP
US stocks up by 0.95%, international stocks fall by 0.70%, bonds down by 0.23%.
Stocks were up every day except Thursday when they fell due to a weak bond auction.
Earnings will be up this quarter. So far, S&P 500 earnings are up 3.7% for Q3 over the previous year. This would break a three-quarter losing streak.
Leading Economic Indicators are negative and the odds of a recession are slowly increasing.
Moody's kept the US credit rating at Aaa but adjusted their outlook to negative. Rising interest rates could result in interest payments representing 26% of revenue by 2033 from 9.7% in 2022.
Oil has been falling and is now down by 14% since October 19th.
US STOCK MARKET (VTI)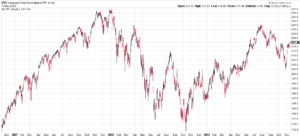 SCOREBOARD