MARKET RECAP
US stocks had a breakout week, up by 3.43% and moving up through resistance. Despite all the bad news out there, stocks continue to push higher.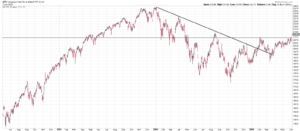 Washington managed to make a deal to save the country from default. Of course, according to Bloomberg economists Anna Wong and Maeva Cousin, it will barely make a dent in the continued disastrous trajectory of US debt, estimated to rise from 97% of GDP to 130% by 2033.
Biden signed the debt deal into law on Saturday, meaning a tidal wave of US Treasuries will come to market this week. It will be interesting to see how the market handles it.
Non-farm payrolls were up by 339,000, beating the 195,000 consensus. Bianco Research said it was the 14th consecutive monthly reading in which payrolls topped economist expectations. The prior two months were revised up by almost 100,000. The labor-force participation rate was 62.6%, the same as in May and lower than the prepandemic level of 63.3%. The average workweek fell to 34.3 hours, the lowest since April 2020.
Between the strong jobs report and the debt ceiling resolution, the Dow jumped by just over 700 points on the news, the largest one-day gain since November.
SCOREBOARD