MARKET RECAP
US stocks fell by 0.23%, barely budging despite no debt limit deal with about two weeks remaining.
The S&P 500 moved less than 1% in either direction in the sixth week in a row.
One-month t-bills were yielding 5.79% due to the risk of default.
Biden has an approval rating of 37%, the lowest since Truman's second term. This, despite a 3.4% unemployment rate.
Jonathan Golub, chief US equity strategist at Credit Suisse, says the S&P 500 has returned 16.9% on average in the 12 months following the last interest rate hike of a cycle.
But there are still lots of negatives – the probability of default; inflation is still high, more potential problems in the banking system, high p/e ratio in the market, and negative earnings growth.
CPI declined for the 10th straight month (4.9% YoY), and PPI is increasing at its slowest rate since 2021.
Discretionary investors are underweight stocks, in the 9th percentile historically, providing possible fuel if the market starts moving higher.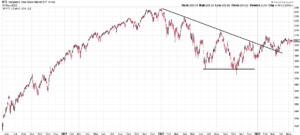 SCOREBOARD