MARKET RECAP
Stocks finished November with a 5.6% gain and, combined with October, advanced by 14.1%. That, according to analysts at Bank of America, places the rally in the 98th percentile, since 1936, for two-month gains. For the week, the US market was up by 1.22%, and international stocks advanced by 2.30%, bonds rallied by 1.50% on lower interest rates. Powell said during the week that the Fed would raise rates by 1/2 point in December, which had a big part in the market rally.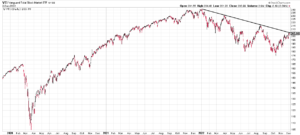 The average forecast of analysts tracked by Bloomberg for the S&P 500 in 2023 is negative for the first time since 1999. The average projection is for a decline of about 1%. Dating back about 100 years, a market decline two years in a row has only happened four times.
Jobs increased by 263,000 in November, indicating the job market is still strong, despite lots of crosswinds in the economy. The unemployment rate held steady at 3.7%. Average hourly earnings were up by 5.1% year over year. The strong report keeps the Fed on target to raise interest rates by one-half point at the next meeting. But not all is perfect; some companies have started laying off employees, and economists expect higher interest rates to lead to more layoffs. The savings rate is also falling, hurt by higher prices. In October, the personal saving rate was 2.3%, the lowest level since July 2005.
Home prices fell for the third straight month. It was the first time that had happened in almost four years. Prices were 1% lower in September compared to August, and the index is now off by 2.6% from June. However, compared to prices one year earlier, they are still 10.6% higher but down sharply from 12.9% in August.
It was a big Thanksgiving week for brick-and-mortar shoppers. Visits to physical stores were up 17% compared to a 2% increase for online shoppers. Retail sales from Thanksgiving to the following Sunday were up by 10.9%. Cyber Monday sales rose by 5.8%.
SCOREBOARD