MARKET RECAP
The S&P 500 fell by 3.35% and the Nasdaq was off by 5.65% on fears of more interest rate increases. The Fed doesn't seem concerned that they might be overdoing it and is intent on increasing rates until inflation breaks, no matter what the damage. Similar to what they did on keeping interest rates at essentially zero for way too long, no matter what the damage.
The market has now retraced about half of the recent market gain.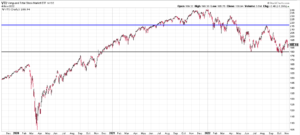 Fed Chair Jerome Powell said, "We still have some ways to go, and incoming data since our last meeting suggest that the ultimate level of interest rates will be higher than previously expected."
Projected earnings estimates have been dropping at an accelerating rate. The 2023 estimates have fallen by 4.80% over the last 13 weeks. But economic growth for Q4 is looking decent, the Atlanta Fed's GDP Model has Q4 growth at 3.6%.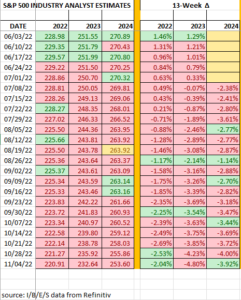 Employment increased by 261,000 jobs in October, the lowest amount since December of 2020, but still greater than the pre-pandemic average of 198,000.  The unemployment rate increased to 3.7%. The report shows that the jobs market, while still positive, is beginning to lose momentum. Twitter, Lyft, and Stripe all announced layoffs this week. Average hourly earnings were up by 0.4% in October versus 0.3% in September. But year over year, the increase was 4.7% compared to 5% in October, both off from the 5.6% March high point.
SCOREBOARD