HIGHLIGHT
Stocks advance as the Iranian conflict fades.
Valuation measures are tilting towards the expensive side.
A decent jobs report.
MARKET RECAP
Iran retaliated for the killing of Iranian general Qassem Soleimani by firing several missiles that resulted in no deaths, and some minor property damage. The market viewed that as a plus, as it appeared that Iran was "standing down", in the President's words, and there would be no further escalation, at least for now. That bit of good news was enough ammunition to move the markets up by 0.7% for the week.
We have written in recent weeks that valuation measures have been getting expensive. That was brought up several times this week in the media and is discussed in today's Barron's. The chart below from Charles Schwab shows that by most measures, stocks are expensive.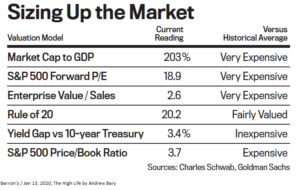 However, there are a couple of measures in the bulls' corner. The Rule of 20 states that if the sum of the p/e ratio and inflation is equal to 20, stocks are fairly valued. Less than 20 is undervalued and greater than 20 is overvalued. With a forward p/e of about 19 and inflation at about 2%, the market would be about at fair value. When looking at the earnings yield (earnings/price) of 5.29%, less the yield on the 10-year treasury of 1.83%, the difference of 3.46 indicates an undervalued market.
So of the six valuation measures shown, three are very expensive, one is expensive, one is fairly valued and one is inexpensive. We lean to the expensive side. But given the technical strength of the market both in the US and overseas, the rally can certainly continue.
JOBS
The Bureau of Labor Statistics reports that 145,000 jobs were created in December, less than the projection of 160,000. The two previous months were revised down by 14,000.  While less than consensus and less than last month, employment increases of around 150,000 or so indicate solid growth. The disappointing number was wage growth, which was up by only 1%. That was the lowest number since Q4 of 2017 and among the weakest in the last five years. However, net-net, this is still a decent report.
SCOREBOARD