MARKET RECAP
US stocks were up this week by 0.60% and international stocks had a big week, +1.96%. Stocks managed the advance on optimism of a breakthrough on the trade front with China. On Friday, it was announced that China would buy more US farm products and the US would hold off on further tariffs. The agreement was characterized as "phase one." There was even a hint of some progress with Brexit. US stocks are now only 2% off the all-time high. Bonds dropped by 1% on higher interest rates and the 3-month/10-year curve went back to normal status (not inverted).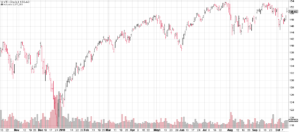 FEWER JOB OPENINGS
Job openings were 4% lower than one year ago, the third straight monthly decline. That hasn't happened since 2009. However, August's job postings overall still were greater than the number of unemployed by about 1 million.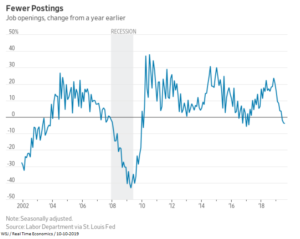 GLOBAL GROWTH
Two top World Bank officials warned that "the global economy is now in a synchronized slowdown," those were the words of Kristalina Georgieva of Bulgaria, the no. 2 official at the World Bank. David Malpass, who is the World Bank's President, referring to their June forecast of 2.6% global growth in 2019, said: "We now expect growth to be even weaker than that, hurt by Brexit, Europe's recession and trade uncertainty." International Monetary Fund research shows that the cumulative economic loss from the trade war could amount to $700 billion by 2020. That would represent about 0.8% of global gross domestic product.
SCOREBOARD