HIGHLIGHTS
Stocks move higher by 1.64% on news of a US/China trade truce.
Some analysts are looking for a big move higher in the market.
A stronger than expected payroll report.
While stocks have moved higher, earnings estimates continue to fall.
The ISM PMI continues its decline, now at 51.7.
MARKET RECAP
Markets barreled higher this week as US stocks increased by 1.64%, led by news of a truce in the USA-China trade war last Saturday. International stocks were up by 0.64% and bonds were flat. With the market at new highs and the advance-decline line increasing, the technical condition of the market looks solid and some analysts are now predicting a big run-up here in the 5-10% range. That might seem optimistic given lower ISM numbers and declining earnings (see below), but the price of stocks is ultimately based on supply and demand, and right now demand is greater than supply, probably helped by falling bond yields around the world.
PAYROLL
One piece of good economic news this week was the jobs report. Nonfarm payroll increased by 224,000, which was much higher than the estimate of 160,000. The better than expected number sent stocks lower by around 1% on Friday (before recovering with just a small loss) as traders worried that a better economy would lower the odds of a Fed rate cut later in July. That is how the market sometimes works in its convoluted way when good economic news is bad market news and the other way around. The unemployment rate did move higher to 3.7% from 3.6%, but that was because of an increase in the total labor force. Year over year wage growth was 3.1% and the average workweek remained unchanged at 34.4 hours.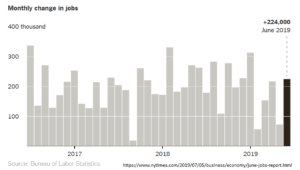 EARNINGS ESTIMATES
While equities move higher in price, earnings estimates continue to move lower. According to Refinitiv, estimates were revised lower this week for 2019, 2020, and 2021 by 1.01%, 1.37%, and 2.04% respectively. 2020 estimates hit their peak on 10/12/2018 at $195.68, and have since declined by 5.41% to $185.09. Meanwhile, the S&P 500 has increased by 9.8% during that time. That is a divergence that cannot continue forever.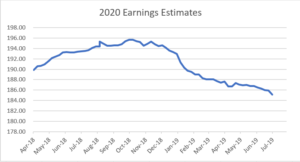 ISM
The Institute for Supply Management's Purchasing Manager's Index fell to 51.7. Above 50 is considered expansionary, but the index has been in a downward trend and is now at its lowest level since October of 2016.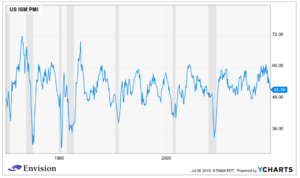 SCOREBOARD